Education
University of California, Los Angeles (B.A., 1975)
Loyola Law School, Los Angeles (J.D., 1982)
Bar admissions
California,1982
U.S. District Courts,1982
Ninth Circuit Court of Appeal
Penny L. Reeves is Of Counsel to our law firm, having joined the firm in 1982. Her practice covers a wide variety of business and real estate transactional matters, with an emphasis on advising automobile dealership clients in business purchases and sales, secured and unsecured financing transactions, and real estate transactions. Ms. Reeves has represented a diverse group of clients, ranging from private individuals and closely held entities to industry associations and publicly traded companies, and counts among her clients some of the nation's top automotive groups and the California New Car Dealers Association.
Having negotiated the purchase and sale of numerous new vehicle dealerships and commercial properties throughout California, Ms. Reeves is particularly well versed in anticipating and addressing the needs of her clients in both the acquisition and disposition of automobile dealerships and commercial real estate. Ms. Reeves also represents and advises landlords and tenants in the drafting and negotiation of complex commercial, retail and office leases (including ground leases, subleases, lease assignments and related contracts). In her work for such clients, Ms. Reeves has also been responsible for overseeing environmental and other due diligence and the preparation and negotiation of shareholder and operating agreements, equipment lease agreements, easement agreements, indemnity agreements, CC&Rs, subordination, nondisturbance and attornment agreements, telecommunications access agreements, development agreements, and broker representation, listing and commission agreements.
In connection with construction, Ms, Reeves has vast expertise in all aspects of new development and redevelopment projects, and represents and advises owners in the drafting and negotiation of construction contracts, architect agreements, engineer contracts, and other professional service agreements.
In connection with financing, Ms. Reeves has worked as counsel to numerous borrowers and lenders regarding all aspects of commercial secured and unsecured loan transactions, including purchase, leasehold, construction, and flooring financing.
Ms. Reeves attended the University of California at Los Angeles for her undergraduate studies and obtained a Bachelor of Arts Degree in political science in 1975. She attended Loyola Law School and graduated cum laude in 1982.
Ms. Reeves is a major contributor to the California New Car Dealers Association Dealer Management Guide, and served as editor of the firm's California Buy-Sell Newsletter for several years. She is also a member of the Los Angeles County Bar Association, the American Bar Association, and the National Association of Dealer Counsel (NADC).
Ms. Reeves is married and the mother of two sons, and she resides with her family in Tarzana, California.
Dealer Association Management Guide
Our firm is the author of theCalifornia New Car Dealers Dealer AssociationManagement Guide, an extensive and detailed guide for dealers which is distributed by the California New Car Dealers Association to its members. The Guide, which is regularly updated, is approximately 500 pages in length, contains an in-depth discussion of the many laws and regulations applicable to California automobile dealers, and is widely used throughout California. See the link below to view the entire Table of Contents for this publication.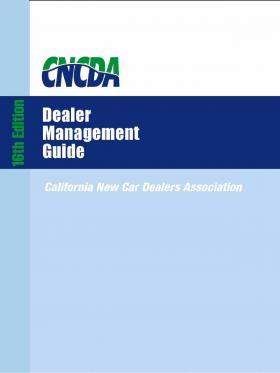 Download table of contents