Education
University of California, Los Angeles (B.A., 1976)
University of California at Los Angeles (J.D., 1979)
Bar admissions
California, 1979
U.S. District Courts, 1979
Brent W. Smith is one of the senior partners of the law firm, having joined in 1981. He attended the University of California at Los Angeles for both undergraduate and law school, obtaining his Bachelor of Arts Degree in history, summa cum laude, in 1976. He obtained his Juris Doctorate in 1979.
The focus of Mr. Smith's legal practice is automobile dealer law, advertising law, business purchases and sales, association and commercial law, and general civil law. He supervises the firm's advertising review program for automobile dealerships and has been involved in numerous buy-sell agreements involving automobile dealerships throughout the State of California. In addition to representing many California new car dealers, Mr. Smith has provided legal services to various dealer associations and he is counsel for the Ford Dealers Advertising Association of Southern California.
Mr. Smith is a major contributor to the California New Car Dealers Association Dealer Management Guide, California Auto Dealer Advertising Law Manual , and the California New Car Dealers F & I Compliance Manual which are three extensive publications published by the California New Car Dealers Association. He contributes to the California New Car Dealers Association's monthly bulletin newsletter and has also been a presenter at numerous legal compliance seminars for dealers sponsored by that Association covering a wide range of topics including advertising law, finance and insurance, privacy-safeguards, FTC Red Flags Rule, California's Car Buyer's Bill of Rights, and social media and electronic marketing.
Mr. Smith is a member of the Los Angeles County Bar Association and the National Association of DealerCounsel (NADC),and participates in a variety of community activities and organizations in the San Gabriel Valley where he resides with his family.
Dealer Association Management Guide
Our firm is the author of theCalifornia New Car Dealers Dealer AssociationManagement Guide, an extensive and detailed guide for dealers which is distributed by the California New Car Dealers Association to its members. The Guide, which is regularly updated, is approximately 500 pages in length, contains an in-depth discussion of the many laws and regulations applicable to California automobile dealers, and is widely used throughout California. See the link below to view the entire Table of Contents for this publication.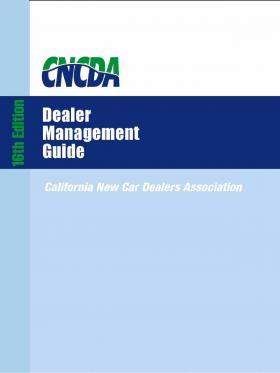 Download table of contents
California Auto Dealer Finance and Insurance Compliance Manual
We have authored the widely used California Auto Dealer Finance and Insurance Compliance Manual. The manual was extensively updated in 2012 and now includes The Reynolds and Reynolds Law California F & I libary of forms with detailed explanations of how to use them. The manual is divided into five sections, Intake and Credit Processing, Deal Negotiation, Deal Documentation, Post-Contract Issues, and F & I Policy Considerations. This publication is a valuable tool in training F & I personnel and in complying with the numerous intricacies of California law in the vehicle sale and leasing process.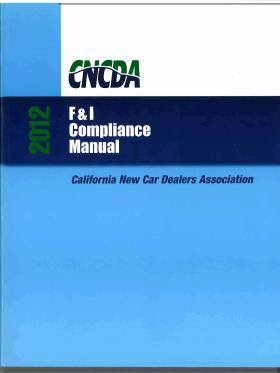 Download table of contents