Education
State University of New York, Binghamton (B.A., 1976)
University of California, Los Angeles (J.D., 1979)
Bar admissions
California, 1979
U.S. District Court, Central, Eastern, Southern and Northern Districts, 1979-1980
Robert D. Daniels joined the law firm in 1979, and has been a partner at the firm since 1985.
Mr. Daniels' practice areas for the firm include consumer and commercial litigation, commercial law, secured transactions, bankruptcy law, real estate law, and automotive dealer law. He supervises the firm's litigation department, and his litigation practice includes a wide variety of clients both inside and outside of the automobile industry. His substantial trial practice over the years includes both the California Superior Courts and Federal Bankruptcy Court. Mr. Daniels also has wide experience in transactional matters, including real estate loans, personal property secured loans, and commercial contracts.
Mr. Daniels is a major contributor to the California New Car Dealers Association Dealer Management Guide and to its F&I Manual. He has also written for various legal newsletters on topics related to the automobile industry, and has delivered seminars to automobile dealers and to attorneys throughout California on F&I practices and litigation pertaining to the automobile industry.
Mr. Daniels is a member of the Los Angeles County Bar Association, Beverly Hills Bar Association, American Bar Association, and the National Association of Dealer Counsel (NADC). He has a son and daughter and resides in the San Fernando Valley, where he is an avid cyclist, book collector and participant in local volunteer activities.
Dealer Association Management Guide
Our firm is the author of theCalifornia New Car Dealers Dealer AssociationManagement Guide, an extensive and detailed guide for dealers which is distributed by the California New Car Dealers Association to its members. The Guide, which is regularly updated, is approximately 500 pages in length, contains an in-depth discussion of the many laws and regulations applicable to California automobile dealers, and is widely used throughout California. See the link below to view the entire Table of Contents for this publication.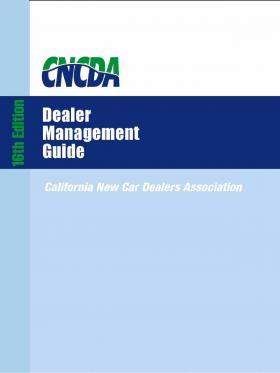 Download table of contents
California Auto Dealer Finance and Insurance Compliance Manual
We have authored the widely used California Auto Dealer Finance and Insurance Compliance Manual. The manual was extensively updated in 2012 and now includes The Reynolds and Reynolds Law California F & I libary of forms with detailed explanations of how to use them. The manual is divided into five sections, Intake and Credit Processing, Deal Negotiation, Deal Documentation, Post-Contract Issues, and F & I Policy Considerations. This publication is a valuable tool in training F & I personnel and in complying with the numerous intricacies of California law in the vehicle sale and leasing process.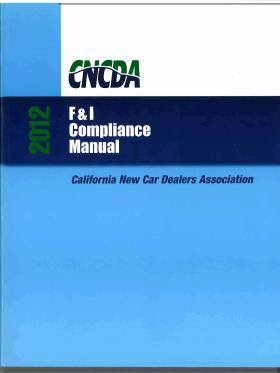 Download table of contents